Bird Rides Inc., otherwise known as Bird ($PRIVATE:BIRD), was one of Time Magazine's 50 Genius Companies in 2018, and was fifth on LinkedIn's most sought-after startups. But in a matter of a year, a new competitor has emerged to take on the mantle of best electric scooter company, and it too has a lengthy name. Neutron Holdings Inc., formerly LimeBike and now operating as just Lime ($PRIVATE:LIMEBIKE), overtook and outranked Bird on LinkedIn's 2019 list of the best startups. The two scooter companies are now competing for the same group of eco-friendly commuters, in the same cities, at the same time.
So how does Lime stack up against Bird? We could use valuation prices and how much money each makes, but that is something everyone can do, and doesn't quite tell the whole story. Using alternative data, we can see how these company's fates are intertwined, and who comes out on top.
Hiring data
The only metric Bird comes out the winner in is job listings, since aggressive expansion seems to be the main strategy its taking. Out of all the data metrics we consider to be vital to understanding businesses through alternative data (hirings, firings, social media counts, app store data, vendor products, stores globally, etc.), Lime has the slight edge in all the other charts comparing the two scooter brands.
Right at the start of 2019, they both had the same number of openings exactly. But Bird clearly wants to grow faster, so it's been steadily adding more and more people to the staff. Lime, on the other hand, eliminated 200+ roles in late December, only to slowly recalibrate its hirings later in the year.
Next, there is a peculiar trend in how these two companies are aligned, since they offer very similar vehicles and services, and often are in the same streets and locations pitted against each other.
Social media data
Bird and Lime, despite the name changes a few years ago, have the same trajectory in social media growth, relying on Twitter to do most of the work instead of Facebook and Instagram. Lime gets the slightly bigger audience, but it's close enough to not be a real advantage, compared to something like total revenue or customer base.
A similar drop happens to both companies in April, and Lime once again was able to pick up the slack a little better than Bird.
App store data
Here is where Lime blows Bird out of the water, by doubling the total number of Apple App Store user reviews (not shown). Where they're equals, is that both have maintained a perfect 5 out of 5 in average review score since their inceptions.
Once again, for our final chart, Lime more than doubles Bird in Google Play Store ratings and this time average review scores. Maybe this is one area Bird should consider looking into, improvements to the Android app.
We are fascinated to see where this duel goes moving forward, since Uber and Lyft are trying to destroy employment as we know it, while Lime and Bird are trying to just save the environment from harmful car pollution and clean up traffic on roads.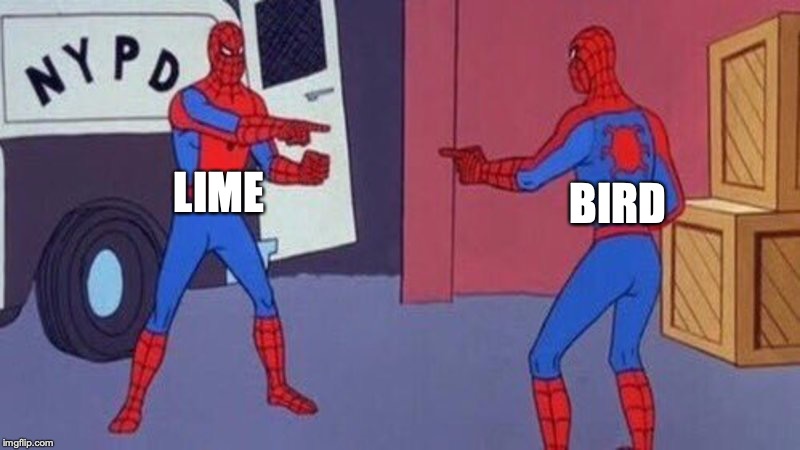 About the Data:
Thinknum tracks companies using information they post online - jobs, social and web traffic, product sales and app ratings - and creates data sets that measure factors like hiring, revenue and foot traffic. Data sets may not be fully comprehensive (they only account for what is available on the web), but they can be used to gauge performance factors like staffing and sales.
Further Reading:
Ad placeholder